The ultimate tight for intense activity, Elite Compression Tights are engineered with powerful panels for targeted support to key leg muscles and improved performance. Graduated compression promotes circulation for greater oxygenation of muscles for faster warm up and recovery Perfect for rigorous training sessions, competition and faster recovery from the toughest of workouts.
Benefits
Greater oxygenation of blood for faster recovery
Reduced fatigue through less muscle oscillation
Reduced muscle soreness
Reduced long-term overuse injuries
Faster muscle warm up pre-exercise
Greater power output
Heightened proprioception – awareness of limb placement for agility
Features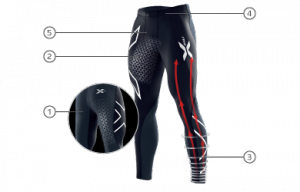 Powerful PWX WEIGHT fabric in rear panels provides extra support to glute, hamstring and calf muscles under high impact.
PWX FLEX front panels align key muscles and support the abductors and quads.
Graduated compression enhances circulation for faster recovery.
Drawstring waistband for secure fit and internal pocket for storage.
Flatlock seams to reduce chafe for greater comfort.
Powerful Invista LYCRA® for exceptional fit, support and recovery.
Antibacterial and UPF50+ sun protection.
High filament yarns for dryness – wicks sweat from the skin to the fabric exterior.
Size guide

Inseam Measurements
| | | | | | | |
| --- | --- | --- | --- | --- | --- | --- |
| XS | S | ST | M | MT | L | XL |
| 62.3cm | 63.0cm | 71.0cm | 63.8cm | 71.8cm | 64.5cm | 65.25cm |
Care Instructions
2XU Compression garments require careful washing to protect the fabric and enhance its performance life. All 2XU Compression garments are engineered from powerful, technical and durable fabrics featuring world-class INVISTA LYCRA® fibre.
That said, even world-leading fabrics have product lives. To ensure your 2XU Compression garments deliver optimal performance and durability, we recommend you take the following steps:
Rinse in clean, cold water after a workout or swimming – sweat and chlorine will accelerate the degeneration of elastane
Hand wash in cold water is recommended. If using a machine, select a cold water setting for delicates.
Use a mild detergent – strong detergents can accelerate the degeneration of elastane
Do not bleach
Do not iron
Do not tumble dry
Do not dry in direct sunlight.